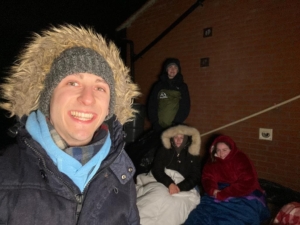 Young people sleep out to support the homeless.
You may remember that in 2019 we hosted a large group at Walsingham House at Abbotswick for our first, and very successful, Sponsored Sleepout event, but sadly due to the pandemic this was not possible in 2020 and we thought that it might not have been possible again in 2021….
However, on Friday 26th March 2021, young people, leaders, catechists, priests and families from all over the Diocese took part in the second BCYS Sponsored Sleepout to help raise money for the Brentwood Catholic Youth Service as well as several local homelessness charities.
With the Covid restrictions in place at the time, the group was not able to gather together in the grounds of Walsingham House at Abbotswick as we had before, but this didn't deter the people of Brentwood Diocese! With just sleeping bags, mats or cardboard and absolutely No tents whatever the weather, they took to their gardens and for just one night experienced the reality of having to sleep rough as so many less fortunate are forced to do every night.
One participant said "The sleepout was unlike anything I've done before! The whole night was an amazing eye-opener into the different struggles that people living without a home experience on a daily basis."
---
Those taking part were spread around all corners of the Diocese, with groups from Colchester, Lexden, Basildon, Romford, Wanstead and Shoeburyness, staff and volunteers from Walsingham House at Abbotswick and individuals all over Essex and East London.
For the lucky few in some parts of the Diocese, the evening remained dry however many experienced a little rainfall, alongside the cold winds and frosty mornings of late March in England. While this did give an incredibly eye opening insight into the life of those having to live street homeless, it also highlights how lucky we all are to be able to go inside to use the toilet, warm up with readily available hot drinks and food in the morning and even just be able to take a warm bath or shower.
As one participant observed; "Our little garden has no rear access so we were very safe, which isn't how the homeless sleep".
---
To understand more about homelessness and the reality of living street homeless, Caritas Anchor House (one of the charities supported by the sleepout) kindly shared a video busting myths about homelessness and explaining more about their work, as well as a video testimony from former resident Tim, who spoke openly about his time living in a tent in the park and using the local leisure centre to shower. If you would like to see these for yourself, they are still available on our YouTube channel here
---
The Brentwood Catholic Youth Service are incredibly proud of all those who took part, and we are absolutely ecstatic to share that an amazing (and still increasing) total of £7000 has already been raised to help support charities such as Caritas Anchor House, Basildon Emergency Night Shelter and Southend Winter Night Shelter, which we know will make an astounding difference to each of the charities and those they help on a daily basis.
On behalf of the BCYS and all the charities this money will benefit, Thank you to all of those who took part – those who slept out, sponsored, donated, publicised and prayed on our behalf. This event would not have been anywhere near as successful without your involvement, and you should all be so proud!
We just hope that by 2022 we will be able to welcome everyone back to Walsingham House at Abbotswick for our 3rd Sponsored Sleepout event!
If you would still like to contribute, you can use our online donations form here or contact [email protected] for more information on how to donate.