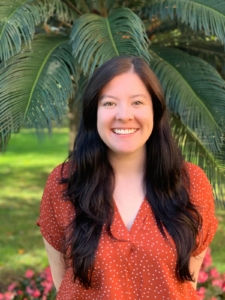 Caritas Diocese of Brentwood has a Development Co-ordinator!
On Friday 26th February Sian Thomas was appointed into this new and crucial role, which will help Caritas Diocese of Brentwood to support those working in amazing charitable projects throughout the Diocese, reaching to the margins. This is the first full time staff role for Caritas Diocese of Brentwood, and marks an important step in the development of Caritas within the Diocese.
Sian already knows the Diocese well – she went to St Peter's Primary School, Billericay and the Brentwood Ursuline Convent High School, and attended Our Lady of Good Counsel Parish in Wickford for many years.
Twelve years ago Sian was part of the Walsingham House Team: after leaving the House she completed a Theology Degree at St Mary's Twickenham and has spent much of the last decade working as part of the LaSallian network in the UK, Malta and the Mediterranean. During that time she has been a staff member at the De La Salle Brothers' retreat house for young people  (the St Cassian's Centre, Kintbury), and more recently served as a School Chaplain at a De La Salle school in Liverpool.
Sian will work from home, with the role intentionally designed for her to be able to travel around the Diocese, to meet those involved charitable projects in parishes and schools. Enabling those working locally to network with others running similar projects, expanding this website to support those seeking to volunteer, and those offering volunteering opportunities, as well as helping with training and grant applications, and inspiring those who want to begin projects but are not sure where to start, will all be part of this exciting new role, funded by legacy money given specifically for this purpose within the Diocese.
Sian writes, "It is wonderful to return to my spiritual roots in Essex and East London. I am honoured and ready to take on this new challenge as Caritas Development Co-ordinator and I promise to be committed to the service and needs of others. I look forward to meeting and working with you all, and together making a difference to those in need."
At a time when the effects of the pandemic will begin to show themselves more and more in economic hardship, the work of Caritas is vitally important. Please do keep Sian in your prayers, and please offer her any support and encouragement that you can once she begins after Easter.