A great tribute to the 166 volunteers who worked over 4500 hours, giving shelter to 98 different guests, 1450 beds from 11.11.18.-31.3.19. BENS operated from seven different churches enabling a bed every night during the winter months.
Report from BASILDON EMERGENCY NIGHT SHELTER.
This winter, thanks to generous grants and donations and recruitment of 107 new volunteers BENS were able to provide night shelters on every night of the week between 11th November and 31st March; a total of 135 nights. Together with the the volunteers from last year we had an excellent team of 166 volunteers who became regular helpers plus a few who selflessly volunteered over Christmas and New Year only. There were 2 new venues this year:- St. Paul's Methodist Church and St. Therese of Lisieux  Catholic Church. We continued to use Salvation Army, Kingswood Baptist Church, Swan Mead Christian Fellowship , Trinity Methodist Church and United Reformed Church. We owe a debt of gratitude to the Faith leaders who allowed us to use the churches. Thank you to Father Dan Kelly who made the Catholic churches available for meetings, social gatherings and storage of equipment when the shelter is closed.
BENS received donations from Rotary Club of Billericay Mayflower, Manor Mission Church, Knights of St. Columba, Lillies  Cafe & Tearoom, Kingswood Services,  Emmanuel Church Billericay, The Doctors Practice in Ballard's Walk and  AstraZeneca UK- a pharmaceutical company. They also received a generous donation of several rucksacks containing sleeping bags from Argos.
Fact and Figures
98 individual guests stayed at the shelter for between 1 and  76 nights with 19 staying for more than 28 nights. The number of beds filled was 1450 which is 76% capacity.
The total number of hours worked by the volunteers was 3533 and the overnight workers  1112. If the volunteers had been paid the 2019 rate for 21-25 year olds the wage bill would have been £29,005.93!
In January we increased the number of available beds from 15 to 17 because we had started to be at capacity for several nights.
Fortunately we were above capacity on only 2 nights and were able to obtain emergency accommodation on both occasions through the Council's Out of Hours service.
There were 19 people that were referred by Police, Probation, Job Centre but didn't actually attend. Unfortunately we'll never know the reasons.
23  guests have been found accommodation by the Council , St. Mungo's  and by private means. Being housed will help them immensely in their road to recovery from physical and mental health problems.
2 of our guests have been given permanent employment by Greggs which is fantastic news and we wish them well.
As a result of having been given the "Excellent" quality mark from Housing Justice last year it was necessary to tighten up some rules. For the first 2 years that the shelter ran BENS allowed guests to go outside during the night to smoke but this year guests were not allowed to go out for a cigarette between 11pm and 7am. However, for the last couple of months we bowed to pressure and changed the time to 6am as we found that guests continually asking to smoke from around 6am was causing a lot of disturbance. Those guests that weren't smokers found the nights much more peaceful  because they weren't being disturbed by smokers getting up to go outside.
Previously we have looked after any alcohol brought to the shelters but this time we  disposed of it.
Support from outside agencies.
At the Monday, " Pre shelter", sessions 2 or 3 representatives from Peabody, (previously known as Family Mosaic), have attended to talk to guests and inform them how to start the process of applying for housing , claiming benefits etc. Good use was made of this service .
Representatives from St. Mungo's also visited on Mondays  to give our guests an opportunity to discuss housing options with them. This regular contact led to several people being given accommodation.
A TB nurse visited to test those guests who were willing to take part. As far as we know there were no positive results. We are very grateful to the TB team for offering such a useful service and we intend to make it an annual event, if not more often.
It has been suggested that next year we could enlist the services of a doctor, dentist and hairdresser. This is certainly something we will consider.
Training
The training in October was well attended and, in fact, we had to arrange 2 sessions to accommodate everyone. One of the sessions included a talk by Councillor Andrew Gordon covering mental health issues which we found most informative.
At a recent Team Leaders' meeting a few points were flagged up that will be improved upon at the training this year. It's only when we are actually experiencing the day to day running of the shelters that we notice certain actions that could be improved. An example is the filling in of Referral Forms. If done correctly this can take up to half an hour and I was finding important information was missing from many of them. Information provided on the Referral Forms has to be anonymously  entered into the Statistics  Tool supplied by Housing Justice so it's vital that it's all there. An important part of the training next time will be instruction on how to fill in the Referral and Guest forms comprehensively.
A few volunteers also suggested that it would be very helpful to have specific instructions at each venue when the shelters first open. Each venue is different with regard to storage, the layout of the sleeping area and  cooking facilities etc. I did go to every venue for all the shifts for the first week to make sure things ran smoothly but next year it would be helpful for the coordinator to do the same but give more detailed guidance on the running of each shelter.
First Aid instruction was again provided by The Red Cross. This was well attended and everyone said that it was excellent and they will feel more confident about being able to help in an emergency should the need arise.
Volunteer Registration forms will have been completed before training but we must ensure that all volunteers provide the contact details for 2 referees. This was asked for on the form last year but most volunteers didn't provide that important information and as a result a lot of time was spent chasing this up. The training session will be a good opportunity for this to be checked.
Social Occasions
In February we held a get together at St. Therese for volunteers. This was an opportunity for them to meet other volunteers that they would not normally meet at the shelters and share experiences . The Mayor, David Dadds came as well as Councillor Morris and his wife who is also a councillor. The Mayor expressed his appreciation for all that we do and wished us well for the future.
In April we met again at Holy Trinity Catholic Church for a party to celebrate the success of the shelters. Around 40 volunteers came as well as The Mayor, Councillor Andrew Gordon and Chris Evans, Chief Officer of CVS. Donors were represented by Heather and George from Manor Mission, James Moggan from Knights of St. Columba and  2 members of Billericay Mayflower Rotary Club. We were pleased to see Father Dan Kelly, Mark Barford and Christine and Eric Skinner  representing St. Therese Catholic Church, Swan Mead Christian Fellowship and United Reformed Church where we had been fortunate to provide shelter, company and nourishment to our guests. An excellent buffet was provided by one of our volunteers, Derrick.
Recognition of our work
Phyl deservedly won Volunteer of the Year Award at the Festival Leisure Awards. The team have been shortlisted for the Volunteer Team Award in Essex County Council's, " Who Will Care", Awards. The ceremony is on May 22nd so if we win it will be announced on our Face book page, " Basildon Emergency Night Shelter".  We would encourage you to join that if you haven't done so already.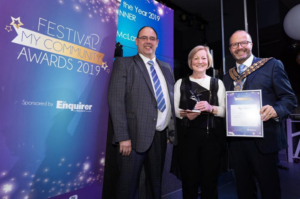 It's reassuring to know that the time we spend at the shelters is appreciated and the following comments from some of our guests show that it is.
The volunteers are great.
I particularly enjoyed being in a happy environment
I feel safe
All those who filled in the feedback form gave us 10/10 for the welcome provided,  how safe they felt and the sleeping arrangements and food. Several commented that they would like blow up mattresses. This last point is something we are hoping to address this year.
Some said that they would like to be able to watch a film . This may be possible at those shelters that open at 8.30pm but there wouldn't be enough time when they open at 9.30pm.
If proof were needed that volunteering at the shelters is a positive experience you only have to read these comments made by a few of our volunteers.
I felt safe and laughed over a few coffees. It was no different to an evening with friends.
Knowing that I'm making a positive contribution provides a form of contentment that I don't get from my career. I have learned that the human element of interacting and speaking to the guests means a lot to many of them. Showing compassion brings people together.
Overall a positive experience. We've been able to help lots of people.
Very rewarding, boosted my confidence and crushed a lot of stereotypes.
I have so appreciated the sense of perspective the experience has given me and the opportunity to understand homelessness much better
I have enjoyed every minute volunteering with the homeless. My team were great to work with and I would love to come back next year.
What's worked this year.
Our guests enjoyed watching films at St. Martin's during the Pre shelter session.
They also played cards at the venues which encouraged socialising and interaction between each other and the volunteers.
One of our volunteers provided colouring books plus equipment and puzzle books. These could be provided at every venue.
More cereal (especially CocoPops!) and porridge was provided this year and this proved popular as the guests didn't want to eat too much toast as they often moved on to St.Martin's at 9am. where they would get tea and toast.
As there were so many volunteers available it was possible, on most shifts, to have more in each team than last year.
On the whole guests got along with each other well and offered support to each other.
The " ticket system" worked well , making it easier for the evening Team Leaders to know who to allow into the shelters.
The nights were generally quieter because guests were not going outside to smoke.
As a result of providing ear plugs and allowing snorers to sleep in a separate room wherever possible snoring ,although still a problem, was less so this year.
The provision of taxis to take guests to St. Therese worked well on the whole but on several occasions the taxis arrived late which left them waiting in the cold. We are considering changing to a different taxi company this year. Changing the pick up point to outside Asda where it was under cover was a great improvement.
Thoughts for next year
We are hoping to provide air beds wherever storage space permits. This was something that several guests requested.
Have 2 evening Team Leaders so that one is responsible for completing Referral Forms with new guests.
Morning teams to be more vigilant about guests leaving clothes and belongings behind.
Coordinator to ask volunteers to let him/her know if they want to donate toiletries, clothing etc as we had too much this year and storage was a problem.
Coordinate the delivery of food and toiletries supplies to the shelters more efficiently
Possibly have 2 night workers at venues where there are several exits to ensure that guests do not let themselves out during the night.
Health professionals to visit.
Encourage volunteers to attend Mental Health First Aid courses run by CVS.
Provide conflict resolution in the training.
Every year we learn from our experiences and we will build on this year's success, providing an even better service to those who would otherwise be on the streets.
Thank you to everyone who enabled the shelters to run this year and we look forward to seeing many of you again in November!
Muriel Cornwell, Shelter Coordinator
Phyl McLaren, Chair Homeless Working Group