Brentwood Diocese joins faith institutions in fossil fuels divestment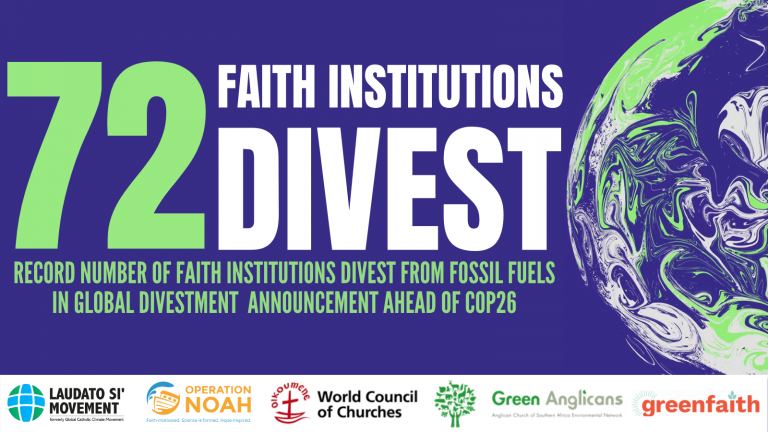 The Diocese of Brentwood was one of 72 faith institutions, including 37 from the UK, which announced their divestment from fossil fuels five days before COP26. You can read more here:
https://brightnow.org.uk/news/global-faith-divestment-announcement-cop26/
The global announcement came from faith institutions with more than £3.1 billion ($4.2 billion) of combined assets under management in Australia, Ireland, Italy, Kenya, Nepal, Peru, Ukraine, the UK, the United States and Zambia.
The news was reported by The Times, BBC Scotland, BBC Ulster, Church Times, Vatican News, The Tablet, The National, RTE, National Catholic Reporter among others.
Following the global divestment announcement, partner organisations hosted a webinar entitled: COP26, Fossil Fuel Divestment and a Just Transition for All. You can watch it here.
Together with Laudato Si' Movement, Green Anglicans, CAFOD, Christian Aid, Tearfund and others, Operation Noah organised a special COP26 event live from Glasgow, entitled Fossil Fuel Divestment, Climate Justice And A Just Transition For All. The webinar is available to watch again here.