"This is the first time in four years that I have been able to relax."
A partnership between Walsingham House at Abbotswick and Basildon Council helped people fleeing domestic abuse during lockdown
The gravity of the pandemic and lockdown hit all of us back in March; just how suddenly and completely life ground to a halt, and how little there was we could do about it. It was no different for us at Walsingham House at Abbotswick. Our full schedule of retreats and events was emptied in an instant, our team of volunteers sent home with a few hours notice. House empty, gates closed. For the few of us who remained, the strong sense of purpose which ignited our faith and inspired our work was difficult to engage in our 'new normal'.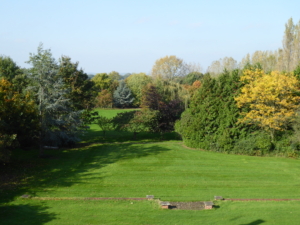 We had the immense resource of our beautiful house, with 10 rooms and such brilliant facilities and grounds. Seeing such need in the world, we felt compelled to find a way to be of help.
In the initial days of lockdown, we therefore reached out to our local councils to offer our house and ourselves in whatever way would be most useful to them.
One reported side effect of lockdown was a spike in cases of domestic abuse. Victims were cooped up at home with perpetrators as workplaces, shops and other safe spaces were closed. Those suffering abuse often kept silent as they were worried that support would be unavailable or out-of-reach during lockdown. So Basildon Council warmly responded to our offer of help with the request that we become an additional support for their domestic abuse services, with the House as a safe haven for those fleeing abuse. Basildon Council are one of a group of local councils supporting SEDAH – the South Essex Domestic Abuse Hub – and SEDAH became our main contact point.
We went through Covid and Risk protocols, and were supported by Brentwood Diocese, as well as by Basildon Council and SEDAH, in ensuring we could manage everything safely. Closing our gates to visitors was unusual for us – Walsingham House at Abbotswick is a place of great welcome, always. But the nature of the abuse that our guests were fleeing meant that we not only had to close the gates, but we could not tell people why.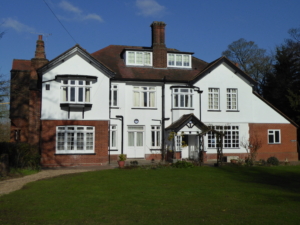 Between April and August, we quietly welcomed 5 women and 3 children to Abbotswick. It was a privilege to be able to get to know them all and to be able to walk with them for the time they were with us. The memories that will endure of our time with them were the moments of laughter, of joy- especially with the young children who brought their beautiful smiles, fun and positivity. The way our guests were able to support one another, with new friendships being formed. Being able to see the burdens of life being taken off their shoulders as they were able to relax in a place of safety and peace. It was a privilege to witness and for each of us to play a small part in facilitating.
There were also difficult moments for our guests. The sad reality was that none of them had chosen to be here, they were staying with us because they weren't safe at home. And with that came a lot of complications and difficulties; legal hoops to jump through, belongings to be collected, and ultimately many ducks to get into a row in order to be able to have a fresh start. All of this on top of the emotional trauma of the situation. For us, as young staff and volunteers here at the house, we had been aware through the news and political reporting that domestic abuse was a rising problem, as were cuts to council funding and support which had stretched services near to breaking point. But to see that played out in the lives of our guests, to be defining their life chances and especially that of their children, was extremely difficult. At times we felt powerless, all we could do was sit and listen as one of our guests vented to us about the latest complication or delay in their case. As much as we wished there were easy and quick fixes to their problems, that isn't how life works. All we could do was give our guests a place where they felt safe and were able to relax as they worked through what they needed to. One of them said, "This is the first time in four years that I have been able to relax." That resonated very deeply with us – imagine feeling so unsafe that you could not relax even in – and sometimes especially in – your own home.
Gavin Callaghan, leader of Basildon Council, said, "I will never forget my first visit to the refuge in our borough in 2014. The stories I was told on that day have lived with me ever since. I always wanted to do more to support victims of domestic violence and I'm pleased we have been able to create the hub, support the staff locally and reach out to partners such as Father Dominic and Walsingham House at Abbotswick, to help people in their hours of absolute desperation."
For some of our guests, staying with us was an interim chapter in a longer journey towards getting their life back on track. For others, their stay with us was all they needed to find their 'fresh start'. What all our guests shared in common was their immense gratitude to us and all who had made it possible for them to come and stay with us. They had a range of faiths and beliefs – being with us invited questions and inspiring conversations about who we were, and why we did what we did. Faith came alive through service; hearing the guests tell us how peaceful and restful they had found the house, and how much it had helped them, and to see them leave us visibly refreshed and happier, was all the affirmation we needed to know that our efforts had been worthwhile.
In amidst the storms of the last six months, for the whole world and in the lives of our guests, those of us at Walsingham House at Abbotswick didn't discover a vaccine, nor feed the masses or even have every bed filled at our house. But we were able to continue our faith-filled mission for Walsingham House to serve as an oasis of retreat and calm. In these months, it has been a haven of hope and peace for a handful of people who sorely needed such a place, making tangible the words of Christ, "Come to me, all who labour and are overburdened, and I will give you rest."
If you are a victim of domestic abuse, we understand it can be very, very hard to reach out for help. If you are in immediate danger, call the police. If you want to talk to someone, and work out how to leave an abusive situation, there is help and support for you, and lots of people who will do all they can to help you to find safety. If you live in South Essex a good place to start is SEDAH – phone 01268 206798 for help and advice, in complete confidence.
For help nationally visit https://www.womensaid.org.uk/ – this is a federation of local charities, with lots of links and advice. If you are a man suffering domestic abuse then the dedicated charity https://www.mankind.org.uk/ is there for you. 
Basildon Council gave a generous donation in recognition of our work; however, we are in urgent need of funds to maintain Walsingham House at Abbotswick, and support our work with young people across Essex and East London; so far the lockdown has cost at least £25,000 in lost retreat income, and the autumn term remains very difficult for us. If you are able to help at all, please visit www.bcys.net/donate to donate online, bank transfer or cheque. To directly support services for victims of domestic abuse then you can donate at https://www.womensaid.org.uk/ or https://www.mankind.org.uk/
You can read the blog by Gavin Callaghan, the Leader of Basildon Council, at https://www.basildon.gov.uk/theleader 
Article by Harry Rawcliffe, Assistant Manager at Walsingham House, and Fr Dominic Howarth, Episcopal Vicar for Youth Ministry and Pastoral Care, Diocese of Brentwood.