The Catholic community in Southend are doing amazing work during lockdown.
The Winter Night Shelter is run by a group of churches, led from Sacred Heart of Jesus Catholic Church in central Southend. Each church opens their hall for a night a week, sleeping on average 21 rough sleepers and feeding 38 rough sleepers and people from the wider community.
Lockdown brought an abrupt end to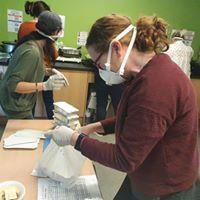 the shelters; instead the Council provided 98 B&B places throughout the town to make the rough sleepers safe and to allow for the possibility of isolating should the need arise.
However, the problem remained of how do we keep the rough sleepers at home and not having to wander the town looking for food? Following Government guidance, the Council asked for the usual distribution points for the food to be closed, but asked the Churches Winter Night Shelters if they could continue to provide the food.
Led by the SVP Westcliff, the churches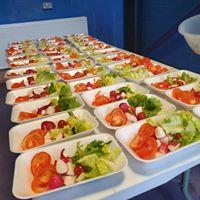 continued this vital work – the Sacred Heart of Jesus Catholic volunteers, maintained their Wednesday slot and started cooking meals for 98 rough sleepers; the food was then distributed by Council drivers ensuring everyone receives a hot meal once a day.
Along with the SVP and Sacred Heart Church a number of the other regular food distribution volunteers  joined forces and together they are now producing 120 meals each day for the rough sleepers and a further 45 meals for vulnerable people throughout the town, bringing the daily operation to 165 meals. A mammoth task!
Liam, who leads the project at Sacred Heart, said, "From the 91 volunteers at Sacred Heart we selected under 70's and those without underlying health problems and now seven of our team, on a three-week rota, arrive on every Wednesday afternoon to prepare the food.
We have been magnificently supported by businesses around the town – restaurants, supermarkets and many other charities. A special thank you must go to the SVP Westcliff for their unswerving belief, financial support and dedication.
Most importantly many people around the town have benefited from Our Lord's true love, compassion and inspiration to make this happen – proof Our Lord is constantly at work in all our communities if we choose to find Him."
If you live in the Southend area and would like to be involved in the project then email Liam directly; [email protected]
If you wish to make a donation then please post a cheque to :
Sacred Heart of Jesus Roman Catholic Church
418 Southchurch Road
Southend-on-Sea
Essex SS1 2QB
Cheques should be made payable to Sacred Heart Church and please include a note that your donation is for the 'Sacred Heart Winter Night Shelter'.