The Rosary Project was started at St Francis of Assisi Church at Halstead by Theresa Crush and she has been instrumental in expanding participation to include contributions from Parish Partners across North Essex including:
1. Our Lady Queen of Peace Braintree
2. Our Lady & St Anne Line Dunmow
3. The Holy Spirit Great Bardfield – including Thaxted
4. St Francis of Assisi Halstead – Including Sible Hedingham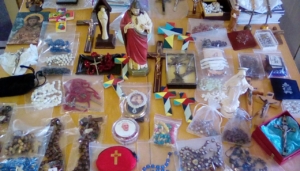 Theresa had followed a link on the website that supplied parts for making rosaries, and found herself connected with a situation in India that is in need of small holy items; the items are distributed to the poor by Monsignor John Joseph in India.
There is a huge amount of work going on in the Carmelite Community in Tamil Nadu; Sadly the Christian community are facing many difficulties – a large percentage of the Catholic population are experiencing poverty and discrimination. However, the Carmelite Community are extremely active in;
Educating the poor
Promoting social care across the local community
Producing publications on Carmelite Spirituality
Sending their Priests to other Countries in the World (9 to Italy, 9 to Germany, 1 to Austria, 1 to Qatar, 3 to England, 3 to U.S.A, 5 to Spain)
A Seminary and Meditation Centre
The Project was launched to coincide with Lent and ran through until Easter Sunday. Parishioners were encouraged to donate items that were collected in the various Churches – the Project was promoted through Facebook, posters, inclusions in newsletters and through face to face conversations following Mass.
Theresa took responsibility for leading and coordinating the Project with the Parish Partners and worked extremely hard to collect and package up the items for distribution – currently six packages weighing a total of over 12kg have been sent off to support the Tamil Nardu community – literally hundreds of rosaries, small medals, crosses etc. representing donations from the four participating Churches.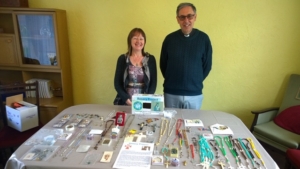 Theresa Crush pictured with Fr Joseph Whisstock and some of the items donated.