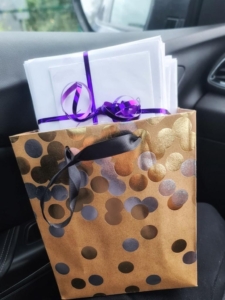 The Sleigh Bells Christmas Card Donation is a group of local volunteers who are trying to find people and places to write Christmas cards too, this can be charities, care homes, homeless shelters, hospitals etc, basically, anyone who would appreciate an extra card this year.
This is a wonderful display of the positive impact we can make on our wider community this Advent. Sleigh Bells volunteers are writing and delivering these cards in their own spare time and not charging a penny.
This week 140 cards were written by the local volunteers of Sleigh Bells and delivered by our Caritas Development Coordinator Siân, to the residents of Caritas Anchor House.
---
Do you know someone or a group of people who may be spending Christmas alone or away from their families? Someone who's been through hardships, or may not see anyone this Christmas?
Please get in touch with Sleigh Bells and help us spread smiles, love and Christmas cheer!
You can find them on Facebook, just search: "The Sleigh Bells Christmas Card Donation"