"It is my hope that the celebration of the World Day of the Poor, now in its fifth year, will grow in our local Churches and inspire a movement of evangelization that meets the poor personally wherever they may be. We cannot wait for the poor to knock on our door; we need urgently to reach them in their homes, in hospitals and nursing homes, on the streets and in the dark corners where they sometimes hide, in shelters and reception centres. It is important to understand how they feel, what they are experiencing and what their hearts desire." 

Pope Francis, World Day of the Poor, 2021
---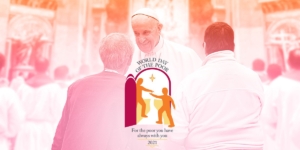 Sunday 14th November 2021 is the fifth World Day of the Poor, initiated in 2017 by Pope Francis with the theme of "let us love, not with words but with deeds."
We are called to follow the example of Jesus in loving God and neighbour, especially the most vulnerable and in need and this is what Pope Francis is reminding us of in his message for the fifth World Day of the Poor. We are being asked to accompany one another and walk a path of encounter with one another.
Inspired by the words of Mark's Gospel 14:7 "The poor you will always have with you" there is a message from his Holiness Pope Francis, visible on the Vatican website and also on our home page in the section 'words from Pope Francis'.
---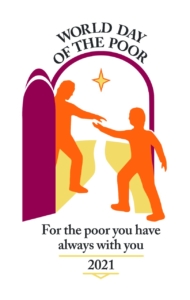 Caritas Social Action Network, in collaboration with Redemptorist Publications, have produced a PDF resource for parishes, schools and individuals, which includes a novena for World Day of the Poor and a See-Judge-Act exercise for groups.
Raymond Friel, CEO of Caritas Social Action Network says "Poverty comes in many guises. In England and Wales, we do not always see the desperate material poverty which is evident in other countries, but it is there… In our society, we also have people who experience the poverty of isolation and loneliness, homelessness, modern-day slavery, trafficking, relational poverty, the experience of being abused or the victim of violence. These circumstances are often drivers of material poverty or the result of material poverty. The Gospel calls us to a conversion of heart and this conversion, as Pope Francis says in this year's message for the World Day of the Poor, "consists primarily in opening our hearts to recognizing the many different forms of poverty and manifesting the Kingdom of God through a lifestyle consistent with the faith we profess."
For further thoughts and resources from CSAN click here.