Catholic Marriage Care are the largest faith-based provider of relationship support services in England and Wales. Operating in Brentwood Diocese through our Ilford, Southend, Chelmsford and Colchester centres we are committed in all aspects of our work to sharing the real joy of the Catholic understanding of marriage and family life, as good news for all people.
We believe that healthy relationships make for better lives, more stable families and a stronger society.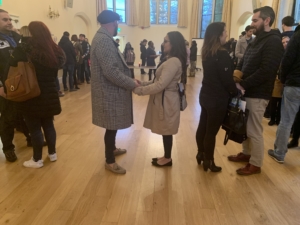 Catholic Marriage Care has been supporting people on their relationship journeys for over 70 years. Working across England and Wales our team of nearly 700 trained and passionate volunteers provide marriage preparation and relationship counselling at a low cost through our 50 centres and 100 counselling locations. We are the second largest relationship counselling provider and the largest single provider of marriage preparation in the UK.
We believe everyone has the right to have the strongest start to their marriage, the chance to nurture their relationship and find support when things get tough. Supporting couple relationships is a matter of social justice. Poor relationships lead to greater inequalities and injustice in our society. Couples and families often feel isolated, under pressure and struggle to be open about the challenges they face and seek the support they need. We want to change this and together we can do so by helping….
couples have the best possible start – our marriage preparation courses help equip couples getting married or committing to a long-term relationship by giving them insights, clarity and confidence to build the best possible future together. Each year, we help around 3000 couples to prepare for marriage, the vast majority planning to marry within the Catholic Church
couples nurture their relationship – we support couples who are approaching retirement to help build resilience. Face to face counselling, through our over 50's marriage MOT, provides couples with the resources and thinking space to face the changes emerging from a future life together. – This is currently only available in a few diocese
couples to restore and repair their relationship – our relationship counselling service is there for anyone who find themselves in need of relationship support. Our support is compassionate, practical and available to all. Each year we support in excess of 2,000 people across more than 100 locations.
educate children and young people – our relationship education curriculum helps children and young people understand what it takes to make and maintain cohesive and harmonious relationships
to raise awareness through resources for churches, teachers and parents to help increase understanding of relationship issues. Enabling as many people as possible to build strong and fulfilling relationships.